A frequently asked question is ÔÇô what are the ideal tools that I can use to advance my global SEO efforts? There are certain tools that I use and I am willing to share how they work in my global SEO activities.
It is a known fact that these tools I am using have the objective of supporting each phase of your journey, including the identification of the potential, focusing on an international audience, optimization and promotion of websites, measuring and gaining benefits as well as gaining popularity with the global SEO process. We will now start.
Primary global search status
[box style="boxed" background="silver"]Google Webmaster Tools[/box]
Determine your primary global search visibility from the trends of queries to clicks, page impressions and CTR acquiring for every country. It is best to utilize the ÔÇ£Search QueriesÔÇØ report in the Google Webmaster Tools and do not forget to filter out based on location.
[box style="boxed" background="silver"]Google Analytics[/box]
If you will check the Google Analytics ÔÇ£DemographicsÔÇØ report, always monitor the conversions, current visits, conversion rate volume and the trends from various languages and countries. Additional, check the keywords, pages and traffic sources used.
Your global search potential
[box style="boxed" background="silver"]SEMrush, Moz Keyword Difficulty Tool, SearchMetrics Essentials[/box]
Aside from researching the search volume for pertinent keywords in the country and language being targeted, you can utilize tools such as SearchMetrics and SEMrush which is already supported in different countries in order to determine the present market activity and the competition.
The best way to figure out which search engine is the most preferred by your targeted audience, it is best to utilize Alexa or StatCounter and then use their keyword tools for verification of the specific search volume. There is a big chance it will be Google Keyword Planner for the western world that utilizes Google the most. In China, it is Baidu Index while Yandex Keyword Statistics for Russia.
Your global keyword ideas
[box style="boxed" background="silver"]SEOchat Suggestion Keyword Finder, Ubersuggest[/box]
You can easily identify more keyword ideas with the help of Ubersuggest as well as the Suggestion Keyword Finder.
The reason why I do not recommend using the Global Market Finder by Google
The main reason why I do not use GoogleÔÇÖs Global Market Finder in my global SEO efforts is due to the fact that it can provide you with inaccurate results, particularly with the term localization and translations. In doing so, it can result to misunderstandings and confusions.
Remember that the tool has an ÔÇ£important noteÔÇØ beneath the results:
 since the translations are created utilizing Google Translate, they are not ideal so you have to be certain that the terms you have chosen are accurate
Even if this is the case, many people typically assume that since it is one of the tools of Google, the results it will provide are good. In some cases, if you are not a native speaker of the language, it can be difficult to figure out if it is right or wrong.
Due to this, the tool is considered useless most of the time since it only adds complexity to the entire process. In the end, you still require native support along with the validation with other keyword tools in order to gain precise keyword ideas and the search volume as well.
As an example, let us say that I am from a Canada based company looking for potential search volume in Mexico related to ÔÇ£rent apartmentsÔÇØ and ÔÇ£apartmentsÔÇØ.
On the results of the tool, it suggests ÔÇ£alquilar apartamentosÔÇØ, ÔÇ£pisosÔÇØ and ÔÇ£alquiler apartamentos. There are issues with these results:
The word ÔÇ£pisosÔÇØ in Mexico is not the translation for ÔÇ£apartmentsÔÇØ but what the ÔÇ£floor is called.
The ÔÇ£Alquiler aparmentos means apartment rentals. Even though these terms are quite popular in Spain, they are not well-known in Mexico.
You can easily figure out how this works when searching for Global Market Find-suggested terms in the keyword research tool by Google. The local search engine is relatively lower than the ones mentioned, which are considered the appropriate ones to utilize in this scenario:
Additionally, the word ÔÇ£alquiler apartamentosÔÇØ is incorrect grammatically since it requires a ÔÇ£deÔÇØ preposition. The right word should be ÔÇ£alquiler de apartamentosÔÇØ which literally means ÔÇ£rent of apartmentsÔÇØ in Spanish. Even though it is true that it can happen in any keyword research tool, in this scenario, it adds misunderstanding to the entire process. As I have stated earlier, you end up demanding native support just to stay accurate.
Your global audience profile
[box style="boxed" background="silver"]Consumer Barometer by Google and TNS Digital Life[/box]
In order to fully understand the targeted global audience demographic qualities and the online purchasing preferences, it is not only achieved by researching with studies such as Comscore Data Mine, but also browsing through the Consumers Barometer sites by Google and TNS Digital Life. Always remember that these sites will allow you to choose and interact with their data in almost any country, industry and demographic qualities.
Your global industryÔÇÖs characteristics and behavior
[box style="boxed" background="silver"]Rnkrnk, Alexa, Google Display Network Research and SimilarWeb[/box]

By utilizing Rnkrnk, SimilarWeb, Alexa and the Display Network Research by Google, you can easily identify the competition present in the global market as well as the trends and characteristics.
Always make it a point to fully understand what are the most popular content and products, distinct selling proposition, strengths, weaknesses, marketing activities and their online communities.
Your hreflang annotations
[box style="boxed" background="silver"]Rob HammondÔÇÖs SEO Crawler, MediaFlowÔÇÖs Hreflang Sitemap Tool, Screaming Frog SEO Spider Tool and DejanSEO Hreflang Validator[/box]
It is important to ensure that the appropriate hreflang annotations are included on the various versions of your global pages. It can help indicate the language and country targeted in every page by following the ISO639-1 format for the language attribute while the ISO 3166-1 Alpha 2 for the country attribute.
You can also utilize the DejanSEO hreflang validator if you want to monitor the usage on a particular page or make the most out of Rob HammondÔÇÖs SEO Crawler for fast verification if all your pages are appropriately featuring the notation. For validating more than 250 internal pages, it is best to utilize Screaming Frog so that you can specifically identify pages that might contain the right hreflang tags.
Your country-targeted websiteÔÇÖs geolocation
[box style="boxed" background="silver"]Bing Webmaster Tools Geotargetting Feature, Google Webmaster Tools Geolocation Feature, Flag for Chrome extension and FlagFox extension for Firefox[/box]
In case you are targeting by country and utilizing a top-level domain, you can easily geolocate it utilizing Yandex Webmaster Tools, Google or Bing.
Nevertheless, the ideal way to geolocate a particular domain is to utilize the appropriate ccTLD for every country you are targeting. You have to take a close look at the IANAÔÇÖs database with every country code registry operator that typically allows the purchasing of domains on their sites or even feature approved domain registrars in every country.
Even though it does not play an essential role before, you might want to check the example that follows. One of the most significant travel communities in Spain, which is Minube, is hosted in Germany. If there is a local IP for your website, it can be helpful. You can check the IP of any website by utilizing the FlagFox extension for Firefox or the Flag for Chrome extension.
Your global web content
Google Trends, Twitterfall, Talkwalker, PROMT, WordReference and Proz
It is imperative to develop optimized and appealing content for your global target audience. It should not only include the appropriate keywords, but make sure that it is enticing and can connect with the visitors while at the same time helping reach your global website goals.
With this in mind, it is essential to get native support. In case it is difficult to find one, simply check out the online translator communities such as ProZ.
If at a certain point you no longer have direct access to the native language speaker or simply want to double check something, you can check out the WordReference forum. You can find a number of threads on phrases as well as translations for various languages.
On a daily basis, you should also be updated with the global trends as well as the hot topics in order to determine fresh content for your website. It is best to utilize Google Trends or Twitterfall which allows you to easily follow up with a specific topic and equipped with geotargetting features. Additionally, Talkwalker is basically a tool that supports various languages and can easily produce alerts through RSS or email.
Your global popularity analysis
MajesticSEO, Open Site Explorer, Social Crawlytics, LinkRisk, CognitiveSEO and SimplyMeasured
In order to research and fully understand the link building tactics, sources and popularity gap of the global competition, it is best to utilize the same link such as the social analysis tools that you already use such as LinkRisk, Open Site Explorer, SocialCrawlytics and MajesticSEO.
Nevertheless, in this issue, you have to pay close attention to the preferences of the global audience more than just the link quality, trends, volume, types and sources. You should take a look at the profile, social activity, most linked and shared content, terms used, and sites shared, seasonality, local industry influencers, as well as the favored types of topics, content and formats.
Your global link-building
Link Prospector, BuzzStream, FollowerWonk, Topsy
Promoting your global website assets can be achieved by leveraging pertinent local sites, understanding the cultural factors, establishing relationships with the local influencers and media as well as identifying what actually works in every country and monitoring the response to every global version.
When it comes to global prospecting, you can utilize FollowerWonk, Link Prospector or Topsy and eventually follow up and manage the links using BuzzStream.
Your global search visibility
Hide My Ass, Trusted Proxies, I Search From, Search Latter and FoxyProxy for Firefox
The best way to verify how your global search audience sees your site gaining ranks in the search results is to utilize Search Latte or I Search From in order to hastily acquire the targeted country and the language results.
Nevertheless, it is important to ensure that you are actually seeing what your audience sees from another location. In doing so, it is best to do it using a local IP with the help of a proxy service. This will also help verify your website from the appropriate global location as well as check if there are any types of settings available.
Your global search results
SEscout, Moz Rank Tracker, Authority Labs, SEO SERP for Chrome, Advanced Web Ranking, Rank Checker for Firefox, Google Webmaster Tools and Google Analytics
It is important to measure the global web versions separately from the rankings for every relevant country and language from the conversions and visits. Always remember to pay close attention to the cross-domain tracking, currency settings and the country and language traffic alignment.
In every global version, you have to categorize and analyze the visits, rankings, conversions, average conversion value and rate, pages, keywords used, sources of traffic per language, devices and location.
For the search rankings, you can utilize the web-based tools such as SEscount, Moz Rank Tracker or Authority Labs which support global search engines or utilize desktop applications such as Advanced Web Rankings together with a proxy service in order to avoid any blocking. For fast revisions, you can utilize the free browser extensions such as SEO SERP for Chrome or Rank Checker for Firefox.
For the site behavior with the search engines, it is essential to utilize the Google Webmaster Tools together with Google Analytics when it comes to traffic and conversion analysis. Both can allow you to continuously follow-up with your global SEO results and enable you to carry out the right decisions.
Your global SEO ROI
The International SEO ROI Calculator
You have to calculate what is needed in order to reach your conversion objectives and a high ROI in your global SEO process while taking the SEO process costs into consideration. You can utilize the International SEO ROI calculator in order to carry out this activity.
Lastly, do not forget that even though these tools are very useful, the most important tool that you should possess is your brain.
On the other hand, many people seem to forget and simply switch to the ÔÇ£autopilotÔÇØ mode, thus missing out on a lot of opportunities or even ending up with mistakes.
Always remember that tools are not meant to take your place, but there to provide you with the required support. When performing analysis, do not forget to test everything and check frequently using your brain.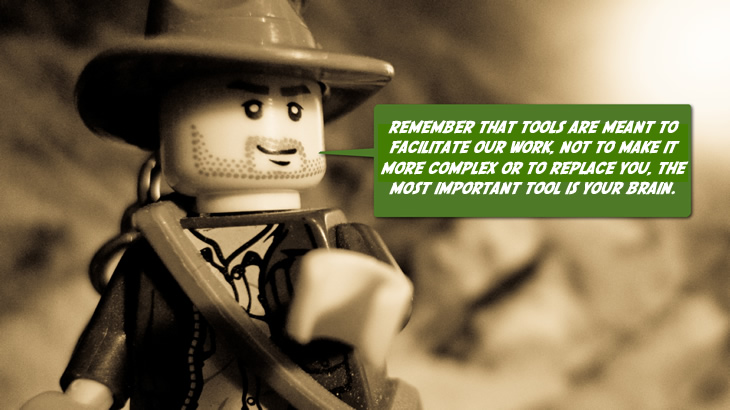 Originally published in Moz.com, By Aleyda Solis